A Sneak Peek into the World of Rasgullas!
3

minute
Read
By Ruchi Sharma
Let's start our day on a sweet note discussing that one sweet we all love in one form or the other- Rasgullas! We often don't think much before popping that sweet syrupy delicacy in our mouth but did you know some crazy facts about Rasgullas? Most importantly one may claim to hate them but at the same time be secretly loving a sweet which is actually another form of Rasgulla only. We got some interesting facts for you guys here and a quirky recipe at the end to make your day sweet, sweeter and sweetest!
History of the precious 'Rasgulla'
There is a real tussle when one wonders where did the sweet originate from. Some claim it's from Odisha while some say it was invented in West Bengal. There are some amazing folklores of Odisha surrounding the invention of 'Khira Mohan' which was then probably originated in Bengal as the first 'Rasgulla'.
Claims of West Bengal regarding Rasgulla weave around the Kolkata based confectioner Nobin Chandra Das in 1868. Though another theory suggests it was just popularized by him. Wow! Did you ever know there is such a confusing history behind the evolution of such a popular sweetmeat? Also, the credit of those awesome canned Rasullas goes to Nobin Chandra's son Krishna Chnadra Das who led to the availability of them around the globe.
Rasgola Dibas
Yes! You heard it right! Our dear very own Rasgulla has a day for itself! There is a popular day celebrated known as 'Rasgola Dibas'. It started off on 30 July 2015 and since then it is celebrated every year on the tithi of Niladri Bije in the lunar calendar.
Types of Rasgula
If we talk about traditional Rasgullas, apart from the regular spongy white Rasgullas of Kolkata, there is Reddish Rasgulas from Pehala, Odisha, Rajbhog, KamalBhog, Rasbhari, and many many more. In fact, Kolkata and Odhisha also hold GI status for Banglar Rasollas and Odisha Rasgullas respectively.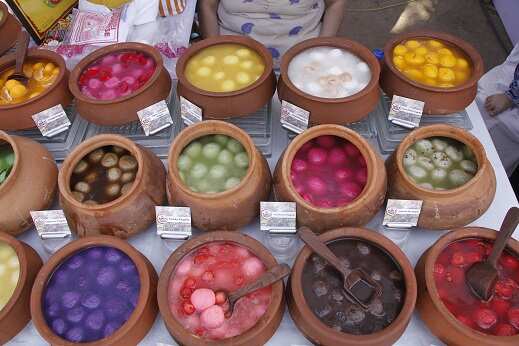 Image Source: https://static.toiimg.com/photo/57393317.cms
Also, did you know there is a lady known as Swati Saraf in Kolkata who offers 270 different flavours of Rasgullas? She started off in 2016 and since then her innovation with this delicacy is a much talked about feature by everyone. Talk about any flavour be it Cappuccino, Gundi Paan, Kairi Rasgula, Thai Flavoured, Green Apple, Red Guava, Elaichi, Barley Lemon or even Strawberry, it all offered by her.
Image Source: https://www.forbesindia.com/media/images/2018/Apr/img_105333_swati_saraf.jpg
She has her sweet take on making them flavoursome using fresh natural fruits and little sweet so that it can be enjoyed by both young and old. Wow! We can't even think of a hundred flavours at one time and this amazing woman came up with full 270 different flavours! Hats off to her and no wonder we always say women are the best innovators!!!
A Fun Recipe with Rasgullas!
Do you and your kids love both Chocolate as well as Rasgullas? If yes, its' time to make a medley of both! Sounds strange, right? But trust us, this is one lovely recipe that combines the goodness of both worlds- Chocolate and Rasgulla! A super fun and easy fusion recipe, without further ado, presenting the Chocolate Rasmalai!!!!!!
Preparation Time: 15-20 Minutes
Ingredients:
1 Tin of Rasgullas
Condensed Milk- 150 ml
Milk- 250 ml
Cocoa Powder- 4 Tablespoon
Vanilla Essence- 1 Teaspoon
Pistachios (chopped)- 2 Tablespoons
Recipe
Squeeze out 10-14 Rasgullas from the sugar syrup in the tin. Take care that they don't crumble.

Take a pan and put it on a stove at medium flame.

Add milk, cocoa powder and vanilla essence.

Give it a good stir till the milk thickens a little.

Now take a different pan.

Add the condensed milk.

Put this pan on a low flame and add the milk-cocoa-vanilla mix in it gradually while stirring it continuously.

Once the mixture dissolves evenly, add in the squeezed Rasgullas.

Let the Rasgullas cook in the mixture for 2-3 minutes and put off the flame.
Image Source: https://ffprodwwwindianhealthyrecipescom.s3.amazonaws.com/1580776392871chocolate-rasmalai.jpg
Your Chocolate Rasmalai is ready. Serve it chilled and garnish it with dryfruits just before serving!
We hope you loved the little sneak-peak into the scrumptious Rasgulla world as well as this unique choco-gulla fusion! Do tell us on which food adventure would you like to read on next?
Write, Record and Answer! Consume Unlimited Content! All you need to do is sign in and its absolutely free!
Continue with one click!!
By signing up, you agree to our Terms and Conditions and Privacy Policy.