Primers that Prep for Makeup and Go Easy on Your Budget!
4

minute
Read
By Ruchi Sharma
When we talk about make up essentials, one thing that ranks quite low on our priority list is a Primer! One might think what's the need of having another layer just below the foundation when anyway it is doing an okay job, but it is time to break this misconception. Priming your face is an essential prep-step wherein the primer not only acts as a base for your makeup but goes much beyond that. It is a perfect base for preventing full makeup (i.e. foundation, concealer, blush etc.) from smudging or slipping off the base. Some of them also have some moisturizers and antioxidants in them that can help heal acne or moisturize the skin. A good primer can not only help in hiding those annoying lines and wrinkles but can also help get mattifying or brightening effects. Next myth is that a primer is expensive, but that's not true at all. For every skin or complexion type, there are some amazing primers out there for which you don't have to shell out big bucks. Here are some of the most budget friendly primers:
Lakme Absolute Blur Perfect Matte Face Primer
The first one on the list is this Lakme primer that creates a good base for makeup and helps it stay on longer. You can also put it as a stand-alone over your moisturizer for a smooth radiant look. It is reasonably light weight and doesn't feel heavy on the skin. The MRP being Rs. 299, this one is an absolute budget buy.

Buy it here!
Maybelline New York Fit Me Primer

Just like the complete Fit Me range of Maybelline aims to fit each skin tone and skin type, they have different primers for different skin types. Their Matte + Poreless variant is for normal to oily skin that helps in absorbing and controlling oil build up. It has mattifying powder to blur and mattify pores. While their Dewy + Smooth variant is for dry skin and enriched with vitamin E for hydration and helps in moisturizing and smoothening the skin. Both of them have an MRP of Rs. 499. They can help in ensuring that your makeup stays put for up to 16 hours.
Buy the Matte +Poreless here!
Nykaa Prep Me Up! Face Primer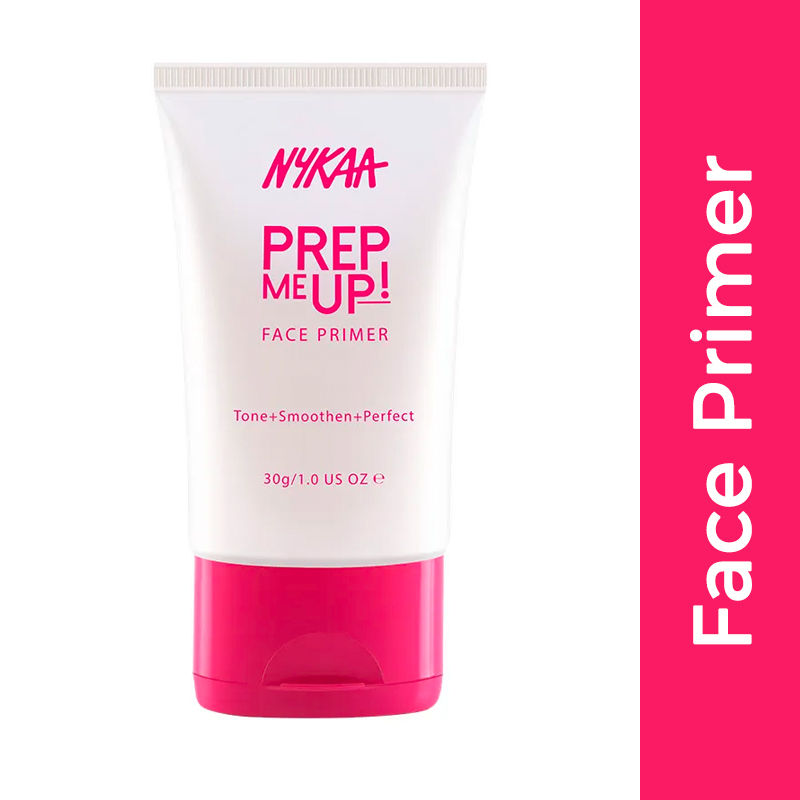 The lightweight non-greasy formula fills in the pores and fine lines. It contains Vitamin E for promoting healthier skin. Moreover, it is paraben free and not tested on animals!!! Quite affordable and priced at Rs. 549 it works for all skin types.
Buy it here!
Lotus Ecostay Primer
Again, it is gel based and feels light weight on the skin. It is non-comedogenic i.e. it doesn't clog pores and is safe for all skin types including sensitive skin. Being enriched with Vitamin E, it acts as an antioxidant and not only helps prevent sun damage but could also help in fighting signs of ageing. Priced moderately at Rs. 695, it is mattifying and 100% vegetarian.
Buy it here!
L'Oreal Paris Base Magique Primer
It absorbs oil and mattifies the skin thus making foundation last longer. The transforming smoothing primer helps in smoothening skin pores and creating an even surface for the foundation and flawless long lasting makeup look. The MRP is Rs. 970, and it is a non-greasy lightweight primer.

Buy it here!
Colorbar New Perfect Match Primer
The primer is enriched with Vitamin E and is totally free from parabens, fragrances or allergens thus being suitable for all skin types. It is a gel based primer and is not really good for dry skin type according to the reviews but works great for normal to oily skin. The MRP is Rs. 850, though you can get it at quite a competitive price in deals.
Buy it here!
Insight Primer
Good for reducing the looks of pores and smoothening wrinkles and fine lines, this is a super-budget primer, priced at Rs. 249. The 3 in 1 primer not only primes but also protects and moisturizes. They claim to be free from alcohol, parabens, odours, dyes and sulphates.
Buy it here!
There are quite a few primers that are specific for applying to other areas of your face apart from skin too!
For the lips
The Sugar Cosmetics lip primer can help in keeping your lipstick in place. Priced at Rs. 599, there would be no longer issues of weathering and the lip color would stay consistent throughout the day!
Buy it here!
For the eyeshadow
Then there are eyeshadow primers which ensure that there is no creasing or smudging of your eyeshadow. These primers also make your eye makeup look last longer. One such primer is Insight long lasting eyeshadow base primer priced at Rs. 99.
Buy it here!
There are different primer mascaras for lashes too like L'Oreal Paris Cosmetics Voluminous Primer Mascara.
We hope the next time you buy your makeup essentials, you enjoy these budget primers. These primers would ensure you have a flawless skin and a very happy wallet! Do tell us which is your favourite one.
Write, Record and Answer! Consume Unlimited Content! All you need to do is sign in and its absolutely free!
Continue with one click!!
By signing up, you agree to our Terms and Conditions and Privacy Policy.