5 Unique Careers Where Women Are Creating Their Niche
7

minute
Read
"If you want something said, ask a man; if you want something done, ask a woman."
- Margaret Thatcher, Former British Prime Minister
Women have been breaking ground in every arena of life all around the world and proving their mettle for long now. Nothing can hold them back, especially with the advent of technology and in this digital age that we are living in, the opportunities one has are immense. Mostly, people think having a job is all about paying bills, and survival, however, times have changed. Now, an individual can pick whatever they find interesting and find exciting to do, and not simply look for a job for survival. Successful Women are not confined to a particular sector or industry anymore, and have expanded their horizons all over, however, here are some unique careers that they have almost owned in the past decade.
1. Content Writer/Copy Editor
Let's start with Content Writing/ Copy Editing, which has gained quite some popularity amongst women in recent times. If you like to play with words and can use them to meet the different subject matters, then this one career is for you. There are many genres and topics that you can write on, such as travel, food, hospitality, news, education, health, you just name it. So, whatever you resonate with, simply write on that.

Many companies prefer a Mass Communication grad, but there is no stopping, as it boils down to meeting the expectation of a specific client. If you are wondering how to start, there are plenty of jobs available through an Online Search, to which you can apply and share your previous work if you have some already. You can choose your interest area, and gain expertise on that subject. You can be writing articles, blogs, short stories, preparing a presentation, captioning images, writing snippets, and lots more.

Many benefits draw most women to this cool career, the most important aspect is that you get to work in the comfort of your homes. That's True! Most of the organizations are flexible with their Content Writers/Copy Editors and let them work online from wherever they like. Also, you can find many Freelance Jobs in this career, which gives you freedom like no other. Simply search for this profile on any Job Site, and there will be plenty of opportunities for you.
There's another aspect to it, as onece you get a hold of writing, you can also switch to one more related profile, Copy Editor. Here you are expected to do tasks, such as fact-checking, proofreading, editing content, making it grammatically correct, syntax and punctuations, and if there are specific guidelines provided by the client, make sure the writer has followed them. Talking about how much one can make each month from this career, it averages between INR20,000-60,000. However, it varies from writer to writer.
2. Digital Marketer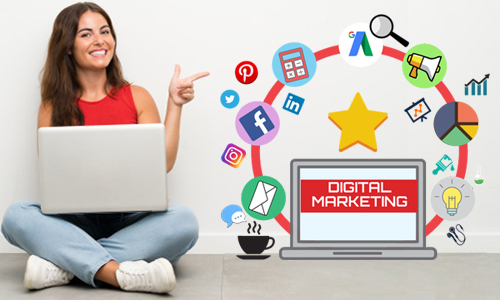 One of the most sought after careers in recent times is that of a Digital Marketer. In this era, there is no business out there, which is not looking to promote their business and expand. Thus, Digital Marketers are in demand everywhere.
Women have been actively filling this role and have been performing beyond expectations. Here in digital marketing, an individual uses various digital channels to reach out to clients, such as Social Media, Search Engines, Mobile Apps, Email, Text Messages, and more without any limitations to build brand awareness and promote the organization's products and services. This takes a certain skill, which you can easily develop over some time. Search for Full Time Jobs Near Me if you want to pursue this career on that scale.
It doesn't take much to become a Digital Marketer and you can fit the bill, by just taking care of certain aspects. It would be recommended if you get a short diploma or certification in this field, which gives you an edge over others. Choose a Digital Marketer career and never be short of Digital Marketing Jobs.
This career is preferred by women as it offers you flexibility and doesn't require you to be sitting in the office all the time, you can manage your job from home as well. Moreover, you can simply Google Careers Part-Time Jobs near me and will find lots of opportunities there. Coming to how much money you can make in this popular career, on an average it goes between INR45,000-60,000, each month and needless to say as you add years of experience, you can only grow from hereon. If you are seeking Online Jobs/Work From Home Jobs, this one is just the best for you.
3. Web Developer
We are living in a Digital Age, and most of the businesses have gone digital, making room for careers that will never see a dry day. And one of them is that of a Web Developer, and this has seen quite a liking among women. Globally, more and more women are choosing this career, as it breaks the stereotype of 9 to 5 jobs, and having to sit in one place all the time. Several clients completely rely on freelancers for maintaining and running their websites, making it a perfect Work From Home job. This gives women freedom to multi-task and also continue to pursue their dreams.
A Web Developer, who also refers to as a programmer is someone who takes over a web design and brings it to reality by creating a website. This requires a specialization, where one writes codes, in languages. Having said that, it doesn't require a hardcore background and can be gained with some interest and dedication. Depending upon that, you can pick both front-end development, involving designing sites and producing content, or back-end development, where one prepares or writes codes to make website features functional. There are plenty of Job Vacancies in this field for you to explore.
The pay scale of a Web Developer comes between INR20,000-70,000 each month. As one specializes, one can double their earnings with time. So, this unique career is no wonder a favourite amongst women of today.
4. HR
It has been proven in several researches that women are far happier in the role of a Human Resource professional. Is there a reason why it's among the Best Jobs, of course, there is, one factor is that it gives them great job satisfaction to be working with other Successful Women Entrepreneurs in the same field? In other words, it's the gender equality at work that makes them feel better and make this career choice. The other factor that comes into play is the pay scale. It is estimated that Human Resource professionals make somewhere between INR50,000-1,10,000 per month on an average.
Coming to the roles and responsibilities of an HR professional, to put it simply, an individual takes care of everything that has to do with employees. This includes, the process of recruitment, Hiring the Right Employees, Processing Payroll, Conduct Disciplinary Actions if needed, Update Policies, and Keep Employees Records. This job is taken lightly by some, but it takes certain professionalism to keep it going, and women do that quite remarkably.
5. Influencers & Content Creators
If you compare the other four unique career choices that women are dominating and have made their own, an Influencer or a content creator is relatively new but exciting than most. First, to give you an idea, an Influencer is someone who can influence the purchasing decision of others, mostly depending on one's position, relationship with their audience, knowledge, and other related factors.
Now, in today's time, it is a successful strategy adopted by many companies, and is called Influencer Marketing and is counted among one of the mainstream forms of online marketing.
Here, a brand collaborates with an online influencer, who can be on Instagram, Twitter, Facebook, or any other social media platform, to market one of its products or services.
It doesn't take much to be an Influencer, as you can start by creating a Business Account on any of the platforms mentioned above, Pick your niche, work on developing an aesthetic, build an audience, establish your brand voice and personality, curate your content and make most of what is trending in the market right now. Talking about earnings, there is no limit! However, according to few surveys, on average, an Instagram Influencer makes somewhere around INR 2,17,000 per month. This makes it easily among the Best Paying Jobs of recent times and it won't be a surprise if it becomes the Highest Paying Jobs in the World as well.
Conclusion
So these 5 unique careers are super popular among the women of today, Copy Writer/Copy Editor, Web Developer, Influencer, HR, and Digital Marketer. Each of these fields has its uniqueness and its advantages among jobs online, so do explore them, and you can pick one that resonates the most with you! Break the status-quo and follow your passion!!
"People respond well to those that are sure of what they want." -- Anna Wintour, British Journalist
Write, Record and Answer! Consume Unlimited Content! All you need to do is sign in and its absolutely free!
Continue with one click!!
By signing up, you agree to our Terms and Conditions and Privacy Policy.